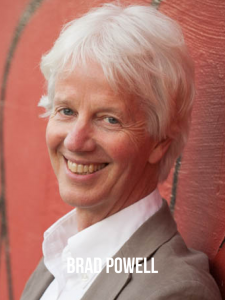 Thrive Episode #43–"How To Build Your Business With Live-Streaming" With Brad Powell
Brad Powell is a business coach and videographer who teaches entrepreneurs how easy it is to create engaging video campaigns with just a smartphone and good storytelling.  Brad is the creator of Video Power Strategy ™ where he inspires entrepreneurs to find everyday moments that make great marketing and he is dedicated to helping small business owners get over the limiting belief that video marketing is too daunting.
Brad shares how he went from filming global musicians for National Geographic to his new passion of helping entrepreneurs use live-streaming to find their audience online. He is a wealth of information for anyone wanting to use live-streaming to take their business to the next level.
On this episode…
4:13 – What is live-streaming and why is it so important in today's online business market?

5:25 – How can you embrace the idea of going live without feeling nauseous?
7:34 – How can you balance the idea of being vulnerable and personable with coming across as professional having a clear message and delivering real value?
10:12 – How do you know what to talk about when you first start? How many points should you cover? How long should it be?
12:14 – How can people dip their toe into live-streaming without feeling over-exposed?

14:02 – Brad's tip for overcoming camera shyness.

16:30 – How do you know which live-streaming platforms to use for your business?
22:02 – How do you get people to show-up for your live-streams?
28:51 – Brad explains the main thing that you want to do to get people to respond to you when you're talking.
29:53 – Brad shares the number one thing you need to do to consistently grow your audience on your live-streams.
To find out more about Brad Powell, visit awesomevideomakers.com.
For Brad's free training, go to livestreamrockstar.com.