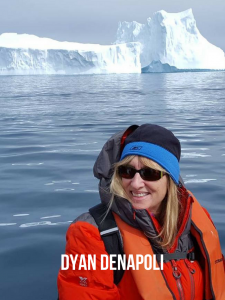 Thrive Episode Ep #46 – "How To Follow The Call of The Wild" with Guest Dyan deNapoli
Dyan deNapoli is a penguin expert, TED speaker and the author of the award-winning book, "The Great Penguin Rescue" where she tells the story of rescuing over 40,000 penguins off the coast of South Africa from a massive oil spill. The penguin rescue paved her way to be a TED speaker in 2011 and to become part of Homeward Bound, a  3-week expedition in Antarctica with 75 other women-of-science invitees. This expedition aims to heighten the influence and impact of women in science who are studying global warming in real time. In 2018, Dyan is going to return for the Global Perspectives Guest Speaker Series for the Lindblad Expedition  & National  Geographic.
Dyan currently lectures both locally and globally on penguin conservation and delivers interactive penguin programs to all ages. She also teachers other entrepreneurs how to be successful TED speakers. On today's show, Dyan shares about the pivotal penguin rescue experience that impacted her journey and how that transformed her entire career. 
She is one of the few women in the whole world to honor the call of the wild…
On this episode…
06:20 – Dyan tells her journey to becoming a penguin expert.
08:26 – What huge gamble did Dyan take that led her on her current path?
10:59- What did Dyan learn most about herself from the penguins?
21:51 – How did taking care of the penguins turn into becoming a TEDx speaker? And how does one PREPARE for a TED talk?
25:25 – Why is it important for the entire future of the planet to pay attention to the penguins?
28:48 – How can you as an individual contribute to alleviating global warming and climate change effects?
35:12- How important is it for all of us to have a dream and act on the journey to achieve it?
To find out more about Dyan deNapoli, check her website www.thepenguinlady.com .