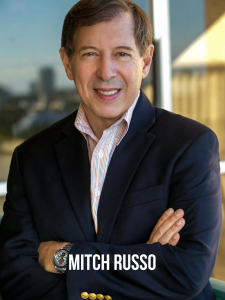 Thrive Episode Ep #47 – "How To Create a Culture of Success" with Guest Mitch Russo
Mitch Russo is a highly accomplished award winning entrepreneur whose Rolodex looks like the who's who of business consulting.
Mitch co-founded the Timeslips Corporation in 1985 which became the largest time-tracking software company in the world. He sold Timeslips in 1994 for 8 figures and went on to become the COO of Sage U.S. a company with a market cap in excess of $100M.  Later Mitch joined long-term friend Chet Holmes and Tony Robbins to create Business Breakthroughs International where he was the president & CEO serving thousands of businesses a year with coaching and consulting.
Mitch is also the author of "The Invisible Organization" which is a CEO's guide to transition a traditional brick & mortar company to a fully virtual organization. Today, Mitch helps clients find new and recurring sources of revenue with his propriety certification training. You can also hear more from Mitch on his own podcast "Your First Thousand Clients."
On today's show, Mitch shares many insights on what it takes to be  truly successful and how to come up with something  lucrative and impactful to drive massive profit for your business.
On this episode…
05:44 – Mitch  shares why your rolodex is so important to your success.
09:07 – Is a success mindset something you cultivate at an early age consciously? What was the big the shift for Mitch?
11:43 – What does it mean to have a "Grand Obsession?"
16:24 – How do you break relationships that are traps to your success?
24:34 – Mitch shares about his experience working with Tony Robbins and answers the question,"Can anyone be like Tony Robbins?'
25:39 – What is Mitch committed to do right now?
28:53 – Learn about how Mitch found his current "vibe tribe."
35:23 –  Why does creating a certification program for your business massively increase profit potential? 
36:52- What does it mean for Mitch to thrive?
To find out more about Mitch Russo, check his website at  mitchrusso.com .