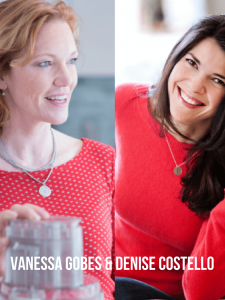 Thrive Episode #41-"A Mindful Answer To Anxiety & Depression" with Vanessa Gobes & Denise Costello
Vanessa Gobes & Denise Costello are Co-founders of the Chrysalis Meditation Center in Winchester, MA,  where they bring mindfulness and stress-reduction practices to students of all ages. Vanessa is a long-time practitioner and meditation instructor who used mindfulness to help her transform her own struggle with anxiety and depression into a more peaceful and fulfilling life. Denise Costello is a registered nurse, foodie and certified journey dance instructor whose life's passion is to bring more wellness to women and families. Together they are a powerhouse of healing.
On today's episode Denise and Vanessa talk about how stress is impacting our society, especially our kids, and how we can use mindfulness to bring more calm and purpose into our lives.
Denise and Vanessa are great friends of mine and I'm so excited to have them on the show.
On this episode...
5:06 – Why did Vanessa and Denise feel so passionately about mindfulness they started their wellness and meditation center?
8:32 – What is stressing our kids today that's  different from what their parents had to deal with growing up? And how can we help them manage?
11:37 – What's the difference between meditation and mindfulness? What are some of the different practices that people can use to bring immediate calm into their mind?
12:52 – What are the many benefits of meditation?
17:20 – What do you say to people who say that they can't meditate?
32:25 –  The one thing you can take away right now to open up your heart space and be more mindful that you can use for the rest of the day.
To find out more about Vanessa Gobes, Denise Costello and the Chrysalis Meditation Center visit www.insidethechrysalis.com.