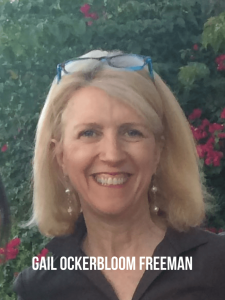 Thrive Episode #42-"How To Become An Innovative Leader" with Gail Ockerbloom Freeman
Gail Freeman is the owner of Studio on the Common, in Winchester Massachusetts which is a unique gift shop as well as an art studio and a creative center for business offsites focused on strategy, team building, leadership and organizational planning.   
Prior to founding the Studio on the Common, Gail was Vice President of Strategy and Communications for Cambridge based Institute for Healthcare Improvement (IHI), a $40m non-profit committed to improving healthcare safety and quality around the world.  Gail has over 25 years of experience in strategy, brand, marketing and communications serving as Director of Marketing for Wellspace, Inc., the Northeast's largest alternative health care center, and as Marketing Manager for Microsoft Corporation.
Gail now brings her love of art along with her love of business and brand savvy together to help foster creativity and innovation in kids, adults, and business professionals.
On this episode…
05:00 – Gail tells how she got started in healthcare and how creativity and innovation are playing in new role in that field.
11:06 – How does positive psychology affect business outcomes and what elements need to be in place to create wins?
13:30 – What are small-change metrics and why are they important to success?
15:26 – What exactly IS creativity and how can we foster more of it in our lives?
23:19  – Gail tells us about the new wave of leadership and why "command-and-control" is an outdated relic.
29:30 – What does it really mean to Thrive and how can we learn from high-achieving outliers?

To find out more about Gail Ockerbloom Freeman and Studio On The Common, visit www.studioonthecommon.com.