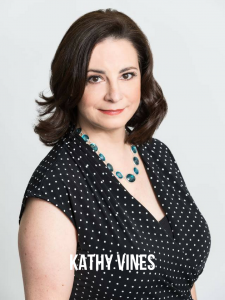 Thrive Episode Ep #48 – "How To Thrive Living with Less" with Guest Kathy Vines
Kathy Vines is a  certified professional organizer, productivity specialist, and owner of Clever Girl Organizing.  At Clever Girl Organizing, she works with her clients in person and virtually to bring serenity and order into their lives. She helps them untangle their relationship with their stuff so they can live more peacefully in their homes and offices.
Kathy is also the author her new book "Clever Girl's Guide to Living with Less: Break Free From Your Stuff, Even When Your Head and Heart Get in the Way." Her book talks about 8 ways we get attached to things causing psychological and emotional barriers and how to overcome them by letting go of what no longer serves us.
On this episode, Kathy shares how to create more time, money and energy so you can have space for what really matters if life. 
On this episode…
05:14 – Kathy shares how she took the leap to follow her heart. 
07:11 – What does it really mean to be a successful business owner?
08:36 – What is it like to live with less and still THRIVE?
13:44 -What are some simple hacks organizing your home and office?
17:34- How do you let go of what's cluttering up your life without feeling overwhelmed?
20:59- What is the difference between tidy and being organized?
28:24- How do you manage co-living with disorganized people in the house when you are trying to be organized?
34:19- What is it like working with a professional organizer, live and virtually?
37:53- What does it mean for Kathy to thrive?
To find out more about Kathy Vines, check her website www.clevergirlorganizing.com, facebook and instagram @clevergirlorganizing and twitter @clevergirlorg.