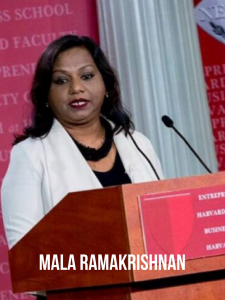 Thrive Ep #50 – "From The Streets To The Stage" with guest Mala RamaKrishnan
Mala RamaKrishnan is an incredible woman with an amazing story of triumph and perseverance.  In 2011, Mala was left by her husband to become a single mother and raise three young children on her own in Singapore. She struggled to survive, holding three separate jobs, living in one room with her kids. She wanted a better life.
Her prayers were answered when she discovered iSuccess where she found her mentor Suria Mohd. Now Mala is a business and life coach who runs her own team at iSuccess. She has been featured in Singapore's national paper, international television, Vasanthm Central and was recently a featured speaker at the Business Experts Forum held at Harvard University.   Mala is also co-authored the book "Once a Queen Always A Queen" and her mission it to empower women all over the world to create the lives they want.
In this episode, Mala shares her incredible journey of going from cleaning toilets with her children, to making thousands of dollars a month in her business.
On this episode…
05:10 – What made Mala come to Boston all the way from Singapore to speak about her life?
08:14 – Mala shares her story of not having enough money to buy water for her kids to flying across the world to speak at the Business Experts Forum held at Harvard University.
20:08 – Where does Mala get her special spark? Why did she believe she deserves more and that there's something better for all of us?
22:19 – What is Mala's message to people who are at rock bottom now and don't know how to get out and want something better?
25:30 – What does it mean for Mala to Thrive?
If you want to find out more about Mala, you can go to https://www.facebook.com/mala.rama.12.