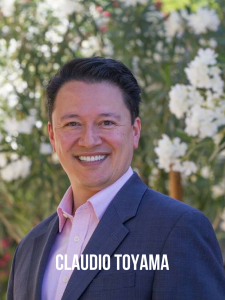 Thrive Ep #52 –  "How To Lead Like A Samurai" with Guest Claudio Toyama
Claudio Toyama is an international leadership coach for executives and professionals who want to become top one-percenters in their industry. Claudio has lived, traveled and worked all over the world in places like the UK, the United States, Italy, Brazil, and Japan and he brings his wealth of international cultural knowledge to his coaching clients. He is also the author of the forthcoming book called "The Samurai Samba Vinci Way: How to Improve Your Executive Presence, Increase Trust and Lead Your Team at a World-Class Level" which explains how to become a true leader in an ever-changing global economy. 
On this episode…
05:55 – What was Claudio's unique experience traveling the world and becoming a son of many cultures?
07:59 – What is the importance of your presence as a leader and an employee?
10:00 – How do you inspire employees to ensure everybody is living up to the brand so you can deliver a consistent customer experience?
11:55 – What does Claudio advise companies in terms of acquiring people to be good brand ambassadors?
14:13 – What are the differences in leadership styles that Claudio has observed globally?
15:55 – Claudio gives us tips on how to be on-brand while respecting other cultures.
21:02 – Learn what the different aspects of Samurai-Samba-Vinci leadership are and why all three are important for success.
You can learn more about Claudio Toyama here http://www.toyamaco.com/about-us/ and you can get updates on his book launch by following his Facebook page https://www.facebook.com/toyamaco/.