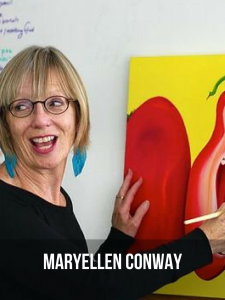 Thrive Episode # 72 – The Creative Path To Success With Guest Maryellen Conway
Maryellen Conway is an award-winning professional artist, teacher and entrepreneur who has been creating and teaching art for over 30 years. She was one of the countries premiere creators of Jucaic art. And her Soho-style loft studio was featured by Boston Magazine as the number one destination for classes and lessons.  MaryEllen has dedicated her life to helping people understand how to access their own creativity. She now runs a mobile art studio to help people access their creativity in the privacy of their own homes and offices. 
On this episode:
05:00 – What is creativity? Do we all have it?
08:30 – How do we generate creativity in this time of technology?
09:40 – How does play and free-flowing translate into more success?
14:00 – How does creativity help in keeping you healthy?
16:30 – How did Maryellen become a professional artist?
18:00 – Maryellen's advice for people who want to turn their art into a successful profession.
20:00 – Is it possible to have it all, successful artistic career and family? 
25:00 – How do you get your creativity back when you feel like your well has run dry?
28:00 – What if you do not have a talent in art? How can you tap on your creativity?
31:00 – Maryellen's message to you about making use of creativity.
Find out more about Maryellen here – in2shades.com.
Also, if you want to learn more about my Stage Ready Masterclass where I teach you how to command the stage with confidence and create a signature talk that sells, click here=>http://heatherpoduska.com/stage-ready-master-class/