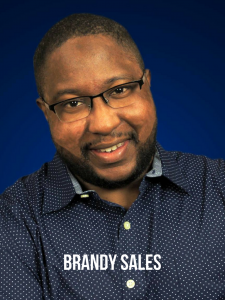 Ep #49 – "How to  Build a Community Through Video Production"  with Guest Brandy Sales
Brandy Sales is a 4-time international award-winning video producer and video marketing expert who owns and operates a video marketing agency that has helped non-profits raise well over $100,000,000. His video marketing team has also helped entrepreneurs across the United States generate thousands of leads and continuously increase their revenues.
Brandy has a business coaching program for freelance videographers as well as 5 youth video programs he and his team provide for the City of Boston. These programs use video production to help young people create projects that build their confidence and self-esteem so they can be part of a productive community. In 2016 his youth video programs expanded to include students from Brooklyn, New York.
Brandy's newest program is called, "The Smartphone Video School: Be Seen, Be Paid" which teaches entrepreneurs how to do their own video content using a low-cost set-up to get high quality results to grow their businesses.
In this episode, Brandy shares how video saved him from going down the wrong path and how it's also helping the lives of thousands of entrepreneurs and young people to Thrive!
On this episode…
04:51 – Brandy shares his journey on how video turned his life around. 
07:59 – How can you use video attract a community?
09:33- What is the most important factor for high-quality video production?
11:42 – Why did Brandy get drawn to working with non-profits?
13:40 – Why is it important for entrepreneurs to use video marketing for their businesses?
14:40 – How can you use just a Smart Phone to make videos that will expand your message and drive profits?
18:58 – How can YOU become a video pro?
20:28 – What are the common mistakes entrepreneurs do in their videos?
22:16 – Tips on how to create a good video.
25:12 – When is it time to hire a professional videographer?
29:55- How is Brandy using video to change the lives of thousands of young people?
33:33- What does it mean for Brandy to Thrive?
If you want to connect  and work with Brandy, check out smartphonevideo.net and brandysales.com